Information For Hoteliers
GuestVelocity™ helps you differentiate your
property from the local competition!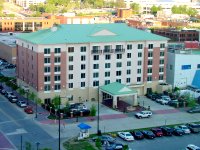 Hotel Benefits
Increased occupancy
High-tech, in-demand service
Guest referrals
Business travelers, leisure travelers and corporate contracts alike are making it known that one of the most preferred hotel amenities is High-Speed Internet Access in their hotel room.
Offering this service is easy with GuestVelocity™. Just look at all of the benefits you can enjoy with the hottest technology wave of the mobile marketplace:
Plug-and-Play Connectivity
Unlimited High-Speed Internet Access in all guest rooms
Simple plug-and-play connectivity, with no dropped connections
Guests can roam around hotel property and stay connected
Guests can browse the Internet, send and receive email, and access corporate VPN's and intranets at speeds 50 times faster than with typical modem connections
Guests can talk on the telephone and access the Internet simultaneously; therefore reducing hotel PBX congestion by decreasing outbound trunk usage
Convenience
No need to overhaul existing infrastructures
24-hour a day/7-day a week tech support; takes burden off of front desk staff
Toll free tech support at 1-866-466-7733
Features
Opens a new revenue stream in guest and meeting rooms
Prevents guests from walking away because high-speed Internet is unavailable
Service can usually be installed within 30 days of contract signing
Marketing assistance: Service includes branded promotional and marketing materials for the front desk; and each guestroom is provided with instructional materials to inform guests about availability and tech support. You can order more POS materials by downloading this form, printing it, and faxing it to us. Instructions and fax information are included on this form.

To attract today's sophisticated business traveler, it is essential to offer your guests an efficient, plug-and-play, high-speed Internet access solution.
Due to the decrease in room demand since 9/11, hotels must compete harder for business travelers. High-speed Internet access is a definite differentiator.